When we adopt a cat, the feeling is like having a new family member. We love our furry friend, and want the best for them. Naturally, we want to do everything to pamper them. If you have a cat, you must ensure them a proper place for potty time to make them happy. Like people, they want to feel comfortable when nature calls.
Cats need litter boxes, there are no other ways about it. Whether you have a kitty or a cat that is free to move around most of the day, there will always be times to use the litter box. The problem is that nobody wants a smelly litter on the family room floor. Enter litter box enclosure furniture. Now, it looks like a standard bench, wardrobe, or side table, yet there is a hole on the side for your cat to enter, and inside he sees his litter box. Thus, your cat has a private place to do their business, and you don't have to look at their litter box laying around, everyone's happy!.
Our Top 2 Picks for the Best Cat Litter Box Furniture Enclosures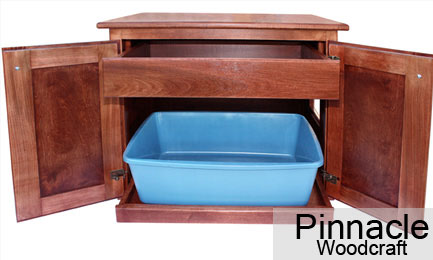 The Wooden Cat Litter Box has the most comfortable interior with the bench-style cabinet for you. It is always large enough for self-cleaning boxes and includes a top storage drawer for accessories. The Amish craftsmen of Pinnacle Woodcraft designed it in a way that looks like a beautiful piece of furniture. It will simply blend with your home décor.
The cat box furniture provides full enclosure to your cat while minimizing messes and debris from cat litter. As the litter box is hidden inside, it will certainly reduce the smell. Rather than an open litter box that gives out all the odors, it now contains odors in the cupboard. Only at the end of the cupboard where the cats enter and leave the litter box, you may find some nasty smell. However, you can grab some Catit Carbon Filters and slide them over the vents on the back to retain odors at bay.
The inside of the enclosed box is a quiet place where your cat can do his business in peace. It is pretty normal for some cats to be more anxious than others, and they need more privacy. Your cat may be hiding in this furniture while doing business and will not have to care about whether anyone is watching. The product also has a good ventilation system to ensure air circulation.  
The wood pet furniture is available in 16 different shades, including various combinations of natural wood. All the materials used are environment-friendly. You can choose any one of 12 stain colors including espresso maple, acres oak, cherry maple, black maple, MS stain oak, and so on.  It is totally hand-crafted for your furry friend to ensure maximum comfort while adding beauty to your home décor.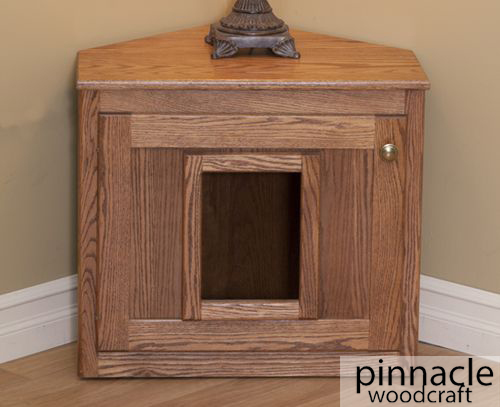 Similar to the previous, the Corner Cat Litter Box enclosure is well-shaped, forming a showcase or designer furniture as you could put it in any corner. The extra space allows you to place any litter box in it, including a self-cleaning litter box. If you want to use a standard size box, you can connect the optional partition inside, which gets you extra space to store your trash and bin. In addition, the enclosure contains a litter pan of the right sizes.
The cat litter enclosure was designed by the Pinnacle Woodcraft, maintaining the same quality as the previous one. The interior is built fully comfortable and peaceful for your cat. It is one of the highly durable enclosure products available in the market. All the wood used to construct the product is natural and hard-wearing. You can use contact paper to make it waterproof and won't add much to the price. The company is providing an exclusive discount for this product.
If you like the style of the corner box enclosure, but want to modify a bit. No worries. It can be crafted with different stain finishes in your choice of wood. The rustic construction will surely complement the interior of your home. The default dimensions are 3″ W x 24″ L x 22″ as to ensure space-saving design. The manufacturer instructions are straightforward and easy to follow for pet owners. It is also kids-friendly as the cut-out entrance keeps them out.
All sides of the litter box are covered by the enclosure, and the cat litter will be contained inside. Cats will not be able to swing and spread cat litter around the litter box throughout the room while digging or covering. Inside the cat litter furniture, you can use an anti-crawling mat where your cats will clean their paws when they leave the litter box. The large hinged door of the product makes your cleaning job simple while reducing unsightly cat litter mess.
Why Should You Buy Cat Litter Box Enclosures?
Although not all cat owners decide to use litter furniture, it is definitely worth considering if you share your home with a cat. In general, cats like their litter boxes to be placed in quiet, sparsely populated areas of the home. If you don't have a lot of unused space in your home, it can be difficult. Placing your cat's litter box on a table or bench in a quiet corner of your living room may be the most private option.
Another reason why litter box furniture is particularly useful in small homes is to store litter boxes, so you don't trip over them. They're also perfect for homes with dogs or young children where an uncovered litter box can't be trusted.
What to Consider When Buying?
Cat litter box enclosure must include several features. Here's what are the things to consider when selecting a litter box for your cat:
Size
When looking for litter furniture for your cat, make sure it has the right size. If you have a larger cat, be sure to choose a larger litter box enclosure that can support more weight and can accommodate larger litter boxes. Your cat should be able to move freely, so make sure it has enough space to carry out its activities and is comfortable doing so. If you have a kitty, make sure the entrance is not too high, so they don't have trouble reaching it.
Materials
When buying furniture, pay attention to the materials from which it is made. It is advisable to look for something durable and robust that resists scratches or kicks. In addition, there are mixtures of different materials specially designed to resist cat urine and which do not absorb humidity and unpleasant odors. Also, check the type of paint used. It is in your best interest for you and your pet to find trash furniture with paint that does not contain lead or other toxic chemicals that may endanger your health. 
Ventilation
It is extremely important that your litter box has an excellent ventilation system that promotes air circulation. It will prevent bad odors from remaining, and it is necessary to create a healthy and comfortable environment for your cat.
Ease of Cleaning
Your litter box enclosure should be reasonably easy to clean, allowing easy access to interior surfaces. Most litter boxes have a front entrance, and some of them can also be opened from the top, so you can clean it faster and more efficiently, removing dirt, dust and bad odors.
Color and Design
It's your decision which color and design are best suited to your home environment. The manufacturer must have options. Many of the cabinets resemble nightstands or side tables so that they are invisible to guests and similar to ordinary furniture. Besides, these must be available in neutral colors, so they can be easily incorporated into any decoration.
Why Choose Pinnacle Woodcraft Products?
Finding the right litter box can be tricky, especially if you want it to look less flashy and less noticeable when guests arrive. This is where Pinnacle Woodcraft products come in.
They have a 4.5-star rating on their Etsy store and over 300 reviews along with thousands of happy customers.
If you want a fully functional litter box that stays hidden, you can choose a litter box enclosure from Pinnacle Woodcraft. It blends with the rest of your furniture, without interrupting the overall tone of your room. We examined dozens of cat litter furniture to identify the best products for all budgets, taking into account size, materials, Amazon ratings, and other factors. And we think the following two products from Pinnacle Woodcraft are among the best options in the market.
Final Thoughts
The cat litter box enclosure performs all the functions of covering a litter box, as well as enhances the appearance of your home. They tend to be more expensive, of course, but in terms of furniture prices, these pieces are quite reasonable. For both of the enclosures, we recommend Carbon Filter to penetrate it and help contain bad smells.
When choosing a litter box, consider the size of your cat. Cats have no particular preference for cutlery or overcoats. Yet, they can be resistant to using an enclosure that is too narrow. Our recommended products include all the essential features to consider in a cat litter box furniture. You just have to choose one of the unique designs. So, make your informed decision in no time!